How much do you agree on the fact that going to the meeting well-prepared creates a lasting impression? Secondly, what exactly do you recommend for pitching right – a deck or a working prototype of your idea?
By Alicia Canon
Definitely, a working model of your idea or even at least a prototype of some form, such as a website that is not launched or a software mockup with a few functional features.
So, if you want to attract some good mobile app investors or are looking for an enterprise software development company that can explain to customers – the features, navigation, and design of the app, a mobile app prototype can be a lucrative investment.
In this article, we will underline the advantages & reasons for developing a mobile app prototype as well as how to develop one.
Encouraging App Prototyping by Underlining Its Benefits
A version of Real 'Thing'
As aforementioned, framing your thoughts and ideas through a mockup is much more lucrative as well as convincing than just presenting them on paper. With a prototype, you can easily persuade potential customers and investors, and then they may be able to invest in your MVP (Minimum Viable Product).
Giving your investors a potential (real) version of your objective and target can help them visualize the app accurately. Additionally, your app prototype also will be able to explain the potential issues it can address and solve them, which you might not be able to explain through ideas and notions.
Constructive Feedback
Feedbacks open doors to improvements. If your idea is strong and lucrative, you may gain constructive criticism or feedback that will aid developers and entrepreneurs gain the actual worth of their idea.
Thisto feedback will also assist in preparing for the possible problems so that the process of mobile app development runs smoothly. The prototype also motivates users to test the app and share their views concerning any confusion with a feature or find it difficult to navigate, thereby helping in making the app simpler and more customer-focused.
Visibility
Creating and exhibiting your ideas through prototypes provides clear insights into the app development cost as well as expected ROI from the application.
The prototype can also share insights about the paid subscription offered by you, in-app purchases, or paid content, and how long they can expect the ROI from different monetization models.
Ease of Visuals
Investing time to develop a prototype certainly will help in convincing investors to put some money and energy into your big app idea. Adding visuals also have a huge impact on persuading customers. Prototypes are better than written ideas that can compete and deliver messages better.
Both women and men understand the concept in a different way, and exhibiting your ideas through visuals makes it easier to explain them. Imbibe good colors and fonts to enhance visuals.
Offering Consistent Customer-Centric UX
Did you know that 21% of users only use the app once after downloading it? Every customer will have a different viewpoint for abandoning the application, hence it becomes difficult to understand the behavior of each user and find ways to engage them more.
Prototype opens user experience issues in front of you to make clear adjustments when you are building an app. This also helps in streamlined communication of requirements from your software development companies in usa, such as font style, size, color combination, button placement, and much more.
These were a few benefits that you could experience with mobile app blueprints. Further, let's understand the steps to building an app and launching a prototype for a mobile app.
Steps to Prototype a Mobile App
Step – 1 Understanding Key Problem to Solve
Your idea, for which you are developing an app, must solve some problems. The defined app can solve challenges ranging from corporate product engineering services handling to simplifying entertainment.
Does the app seem cool because you want it to get developed, or your idea can seriously fix a big problem? Hence, the first thing is to uncover the purpose of app development, underlining the factors, such as competition, business goals, audience goals, and features to incorporate.
Step -2 Key Functionality Identification
After identifying the purpose of the development of an app and its prototype, the next step is to pen down product requirements. You can list multiple features in your app.
So, define features for both iOS and Android apps to make an ideal app. You can also identify prime concerning items to target your audience or prioritize those items that look nice. For instance, in Instagram – you have multiple features, such as photo filters, search functionality, account discovery, video stories, search functionality, & more.
When the app was launched, Instagram offered limited features. It was much simpler and only set necessary features to understand users' feedback. Understanding users' reactions, Instagram then gradually increased features.
Step – 3 Creating Sketch of Primary Screens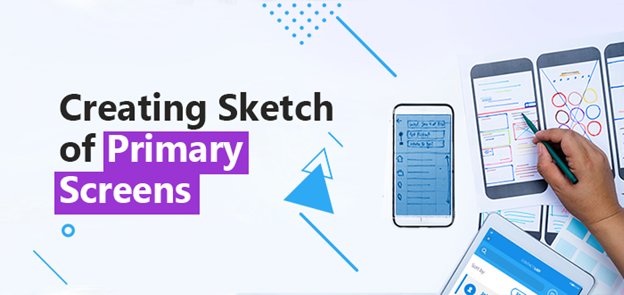 Now that you have purpose and requirements, you can start sketching out the primary features keeping user experience in mind. Sketching can help you understand the look and feel of the application features.
So, you can sketch three-screen underlining primary functionalities of the app – profiles, dashboard, and match. When you are convinced with the sketch, you can move them for screen development.
Step – 4 Wireframing the Sketches
When you have created your final sketch and are ready to forward the design to implement on-screen, you can begin wireframing.
A wireframe is basically a simplified outline of your product which consists of boxes, words, descriptions, and lines. You can call a wireframe as an outline of the framework to understand how your app will look and feel after development.
Step – 4 Convert Outlines into Prototype
You can also share wireframes with people to get feedback for making your product more intuitive. Or you can turn these low-fidelity wireframes into prototypes and share them with your target audience for reviews.
Developers can quicken this process by using prototyping tools to convert wireframes to prototypes. A few recommendations are – InvisionApp, Xcode, and more.
Through prototyping, you can make the product look real to the users while testing it in all ways – be it feature testing, functional testing, and test its intuitiveness before developing an app.
Step – 5 Translating Into Final Designs and Sharing Them
Now that you have made improvements from the feedback you received and are content with the wireframes, it's time to convert it into reality.
It's time to convince your investors to invest in your idea. So, it's important to share a transparent email about your approach and your ideation through a prototype.
If you lack the requisite resources to develop a prototype of your idea to present to your investors, you can always look for a mobile app rapid prototyping services provider to assist you.
Mobile App Prototyping Tips for Developers
Since prototyping is a developer's task, they have more to develop apart from wireframing and prototyping an app. Hence, here are some tips that can help developers get started.
Should Not Build an Entire App Prototype – In order to save time, developers must first focus on the primary components or features of the application and prototype them.
Use Prototyping Tool Instead – Great design does occupy time, but efforts too. Good designs are usually difficult to make, so why not simplify this task? Even if you do not have good instincts, you can still prototype a mobile app using good and useful software.
A prototype software contains built-in interactive patterns, advanced UI libraries, and intuitive workflows & more to reinvent your wheel quickly.
Key points to note when picking a Prototype tool –
However, you get layouts, textures, and behavior handy, you still have to ensure a few points before using a prototype software.
Does the software or tool allow you to use variables and conditional logic to develop an advanced prototype or accelerate the process of prototyping?
Is your tool flexible and fits the needs of other team members?
Does your tool support animation, sophisticated UI libraries, and quick third-party integration, such as Sketch and Photoshop?
Does your prototype software enable you to test a single prototype across multiple platforms? Does it offer both conventional and VR interface prototyping?
Does your toll offer testing and demo capabilities?
If these features are available in your software, then you can build any kind of prototype with saving a lot of time.
To Conclude –
Prototypes reduce your time to rework an app while reducing the cost of any Cloud Computing Consulting services. It also lets you focus more on the things that matter the most to your users. Using a Prototyping tool makes the work simpler and quicker, lightening the workload of a developer. Because prototyping sets a clear path to development and user needs, you are more likely to develop an engaging app with substantial ROI.

Share this article on