It is advised that you change our boiler every 20 years. Although your boiler may still work at an older age, it is found that they become far less economical at an older age and could be adding a considerable excess onto your energy bills. If it's time for you to get a new boiler, you may consider getting a smart boiler with an app that allows you to monitor how much energy you're using. DP Gas, who offer boiler replacement services in Haywards Heath, have found that customers who use services like Hive or Nest could save around £300 on their energy bills.
Here we take a look at a number of smart apps that enable to control a variety of appliances in your home, and all the while making your life easier.
Hive
'With Hive, you control your home from your phone' says the jingle you may recognise from many commercial radio stations. Hive is the genius innovation from British Gas that combines a cutting edge thermostat with a smartphone app and allows you to control your gas and electrical items from anywhere in the world. So this means the days of coming home to a freezing cold house after a long day at work are long gone. Instead, you can turn your boiler on while you're still on the bus, allowing the house to preheat for your arrival. You can monitor everything in your house so you can double check if you left your hair straighteners on, and thus avoiding a serious accident.
Nest
It is now easier than ever before to track your energy usage thanks to Nest. They provide a Learning Thermostat that gradually schedules itself as it gets used to how and when you use your boiler. Every time you use your boiler is documented, allowing you to review why the heating was on at a certain time, and makes it easier for you to work out where you could make potential savings by using your heating less. Nest is extra clever though, as it can sense when there is nobody in the house and turn down the heating accordingly.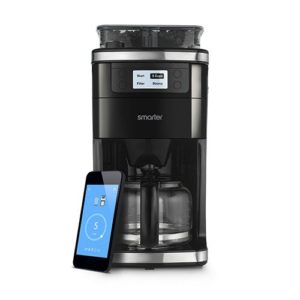 Smarter Coffee

Now you can literally wake up and smell the coffee with the all new Smarter Coffee Machine that is Wi-Fi compatible. Through the Smarter app you can tell your machine to brew coffee, no matter where you are, You can control everything from the strength of the coffee you'd like and how many cups you need it to fill. The best part of all, you can set a schedule to coincide with your daily alarm clock so there's a cup of coffee waiting for you as soon as you get up.

BT Smart Home Cam

Because you can't be too careful when it comes to your home security, BT now offers the solution with their new Smart Home Cam. The camera looks a lot like their routers and can stream straight your smartphone or tablet via iOS or Android. So you can view a live stream from your home whenever you need to so you can check in on your home while you're on a glamorous beach in the Bahamas or check in on your pets while you're at work. With HD quality and a night vision feature, you can zoom in and out accordingly and like the device to multiple cameras so you can see every room in the house.

Share this article on