The digital world is booming. With that, comes an increase in consumer's expectations. People want to see services transition from traditional brick and mortar stores to the web, and onto personal mobile devices.
by Lucy Farrington-Smith
But if your company doesn't have a mobile development department, that goal can seem out of reach – and when budgets are tight, throwing money into a brand new venture might seem like the wrong thing to do.
That's where freelance mobile app developers come in. They're the perfect go-between that will allow you to build an app without the overheads, onboarding and training that come setting up an in-house team.
In this article, I'll explain the best places to find freelancers to build your mobile app, and cover some key things you should consider when doing so.
How to start
If you're not a digital native, getting started is probably the hardest part. Understanding which operating system you want your app on is always your first consideration. 
Look into your customer demographic, and analyse what your audience use – iOS or Android? Don't fall into the trap of choosing an operating system based on popularity in the general population when your audience might differ from the norm.
As simple as this sounds, it's a vital first step towards choosing a freelancer because most will specialise in developing apps for a particular OS. 
Do I need a team or a standalone freelancer?
To answer this, you need to ask yourself 'do I have a fully-formed idea of what I want, or do I need someone to conceptualise some options for my app?'
A standalone freelance mobile app developer can take a full brief and run with it. They'll follow your wants exactly and produce what you asked for with all the functions you outlined.
But, if you need someone to come up with an idea, or a set of ideas on your behalf, it's best to look for a mobile app development firm. A firm with a team of creatives will be more capable of conceptualising you app based on brief guidelines. From there, you'll be able to refine any initial ideas into the mobile app you want to see.
Once you've figured out this step, you can move on to searching for and finding the right developer or team.
Where do I look for freelance mobile app developers?
A Google search for 'freelance mobile app developers' will return you 26 million pages of results –  which, although plentiful, can be daunting.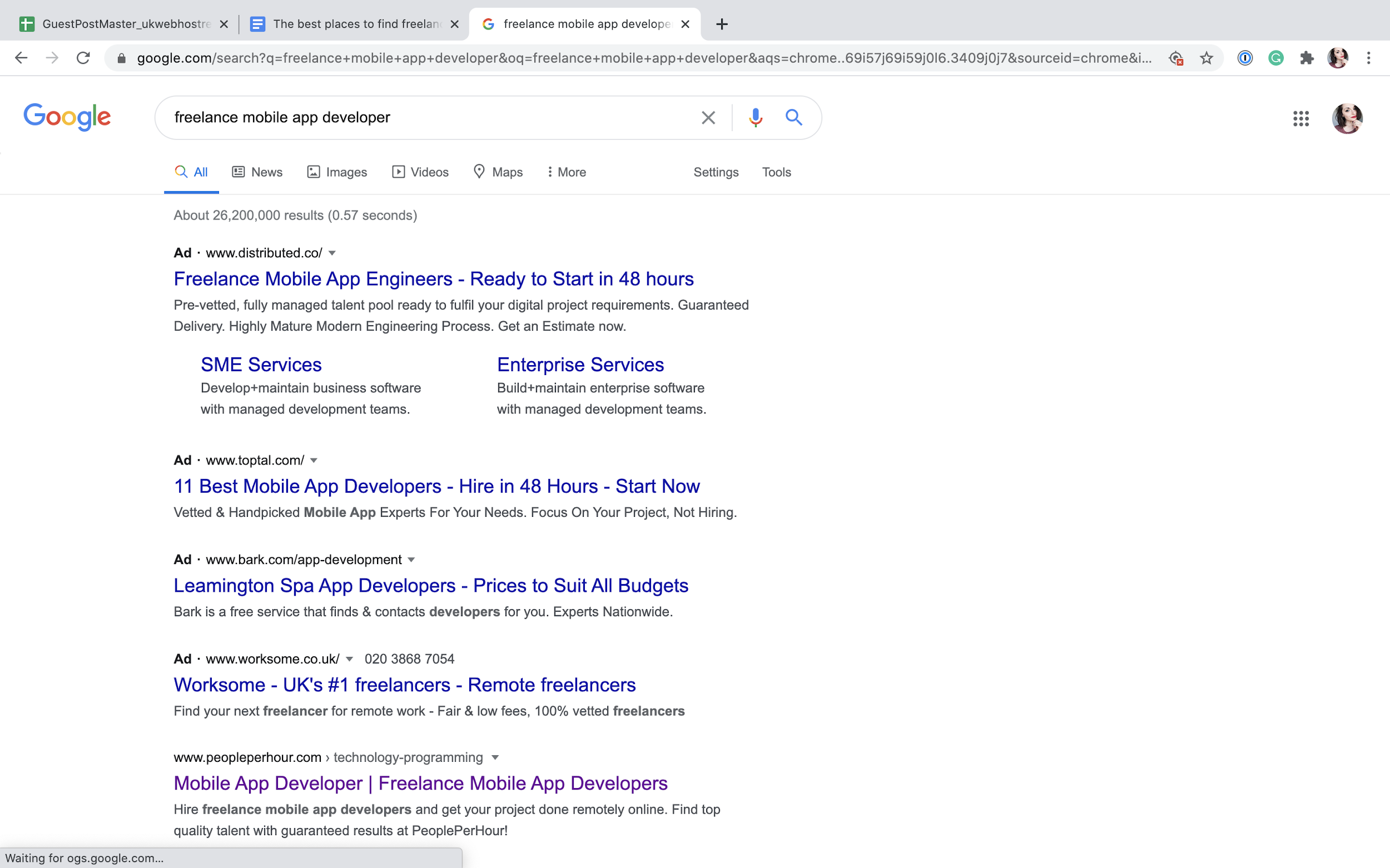 Freelance boards like PeoplePerHour and Upwork are great places to start. You can browse profiles and find out more about individuals, their specialisms and their experience without having to write any emails or waste time on the phone.
If you're looking for someone with iOS build experience and an understanding of user experience (UX), you can refine your search results to specifically target them. 
Plus, if you want your freelancer to train you and act as a mentor while they work on your mobile app project, you can use Codementor to find a developer who is experienced in teaching. Codementor specialises in connecting businesses with relevant freelancers, which means you won't have to do any of the searching yourself. It's a great option if you're not sure who or what it is you're looking for.
Getting started: define the minimal viable product (MVP) 
The key to making it in software development is to not get bogged down in layers of detail from the beginning. To get started, all you need to do is define your MVP. Then, you can procure the leanest version of your software to get it up and running.
All this means is that you'll get something scrappy but workable up in place initially so you can:
Decide whether the idea itself is workable

Find out whether the developer/team you've chosen will work for you

Iron out any issues in live mode, where it's easiest to spot them
So, when you brief a freelancer with your project, make sure you establish the MPV and avoid going down roads that don't need exploring.
The final step

The last thing you need to do is hand over the keys to your freelancer and let them get started on your mobile app project. Hiring a freelance developer is a great way to use budgets effectively and get a pressing digital job done in an efficient way.

—

Author bio: "I'm Lucy Farrington-Smith, a 27-year-old freelance writer. I started out as an actor before I put the scripts down and chose to write my own words instead of saying someone else's. One Master's in Creative Writing and many coffee cups later; you can now find my bylines on HuffPost, Metro.co.uk and my own website www.lucywrites.co"

Share this article on