In 2018, there were more than 4 billion mobile devices – both smartphones and tablets – in circulation worldwide. In mature markets, many people own more than one device, while in emerging countries such as India and the Philippines, where the internet is mostly mobile, a large segment of the population can only access the web through a mobile device.
by Liz Rustia
AppAnnie assesses the performance of several app rankings, macro trends, and a number of industries including mobile marketing, shopping and retail, travel, gaming, social networking, media and entertainment, banking and fintech, video streaming, dating and more. The report also looks at the time spent on social media, mobile games or videos, discovering that people in many developed countries such as Canada and the United States spend nearly three hours a day staring at a mobile screen, while in some emerging markets such as Indonesia, that cumulative daily period can surpass 4 hours.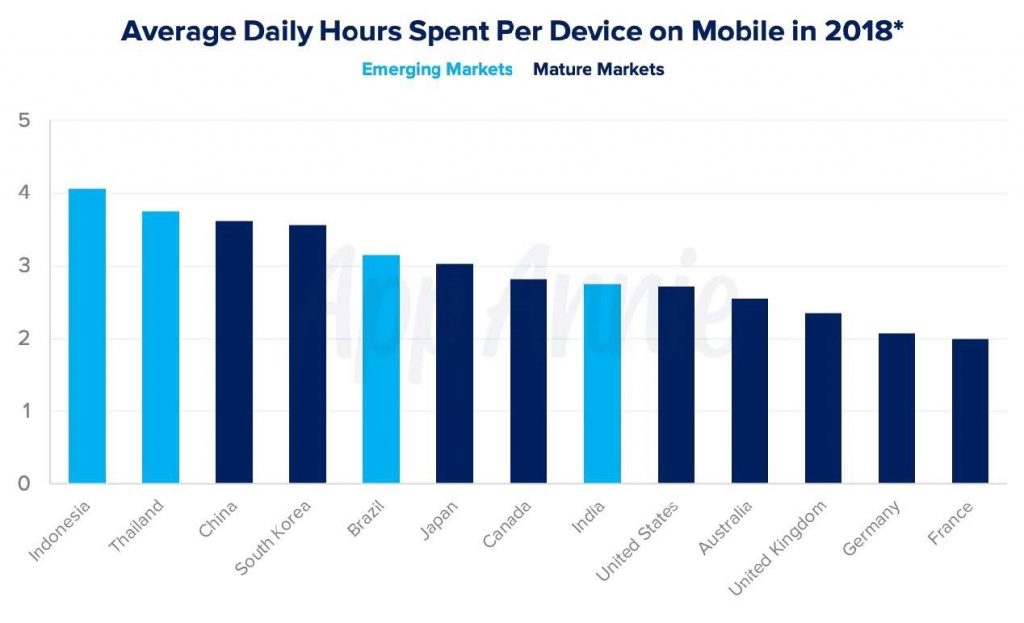 View the full report here.
Here are the key points to consider and worth applying to one's business:
In-app subscriptions are booming
People are spending more and more time in apps
Apps can be the core revenue generator for business
Consider using in-app advertising
Create content regularly
In-App Subscriptions Are Booming
The top 5 most lucrative non-gaming apps of 2018 all contained in-app subscriptions. Since 2016, the 120% growth in spend in non-gaming apps has been fueled by these subscriptions.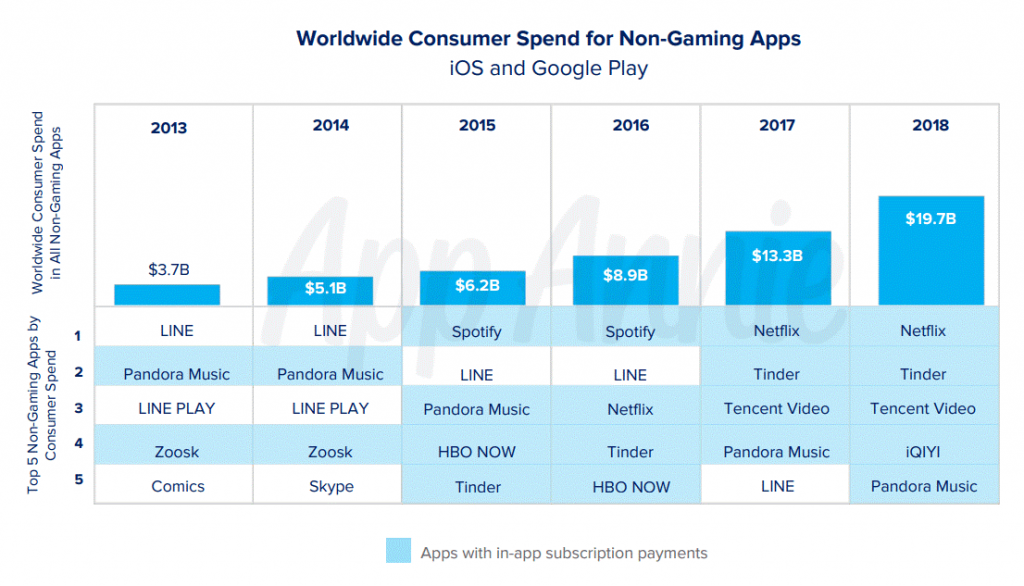 People are spending more and more time in apps
With time spent in apps still on the rise (we spent 50% more time in mobile apps in 2018 than we did in 2016), there's still a huge market to take advantage of and establish a business in.
Apps can be the core revenue generator for business
In markets like the US, Canada, and the UK, key indicators of mobile user engagement such as sessions, time spent, and consumer spend, are all showing continual growth rates.
Entertainment apps are seeing huge growth, and since 2016, in-app spend for entertainment (video streaming, music streaming, or other paid content) has grown by 460%.
Consider using in-app advertising
AppAnnie predicts that 60% more apps will monetize through in-app advertisements in 2019, and there are more and more advertising platforms available to app publishers. Despite the growing popularity of in-app subscriptions, in-app advertising should remain an important way to generate revenue from an app.
Create content regularly
AppAnnie's report highlights that time in apps isn't spent in a continuous session, but consists of "micro-moments" throughout the day.
According to The State of Mobile Report, micro-moments happen across many industries. Examples of micro-moments include checking emails, browsing news articles, or checking online banking.

If your app contains regularly updated content that your audience enjoy, it's highly likely that they'll regularly check your app to for relevant updates in these micro-moments.

"Mobile is no longer an add-on channel—it is the engine fueling digital transformation," said Theodore Krantz, CEO, App Annie. "The State of Mobile 2019 report unlocks the potential of mobile for businesses in all stages of mobile transformation. The insights delivered in this report are unparalleled and inform the strategy every company needs to deliver winning consumer experiences."

AppAnnie is not the only source for key statistics either. Take advantage of the opportunity, it's never too late to create a mobile app for your business.

Share this article on